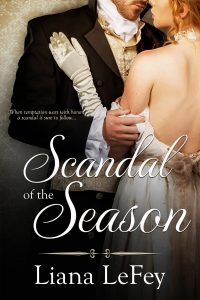 Available for pre-order now!                         
Release Date: May 30, 2017
When temptation wars with honor, a scandal is sure to follow…
Lord Wincanton fled England's shores to avoid heartbreak in the form of Lady Eleanor Cramley, but upon his return from fighting Bonaparte he finds the impetuous young miss he escorted through her first Season has grown into a stunning woman who still fires his blood. But as long as she sees him as a beloved older brother figure, he won't risk their friendship by exposing his true feelings.
Eleanor was devastated when Sorin left after scolding her for her wild ways. During his long absence, she's striven to mold herself into the proper lady he urged her to become. Now that he's back, however, the gentleman who once served as her chaperone makes Ellie long to toss all propriety to the wind. Without losing his good opinion, she must make her dearest friend see her as worthy of his heart and desire before this Season's end—or face an unacceptable bridegroom.
Passions run deep beneath the surface in this 'best friends to lovers' romance, and friendship will be tested to the limits by hidden desires and machinations gone amiss!
Available for pre-order at Amazon and Barnes & Noble.